2020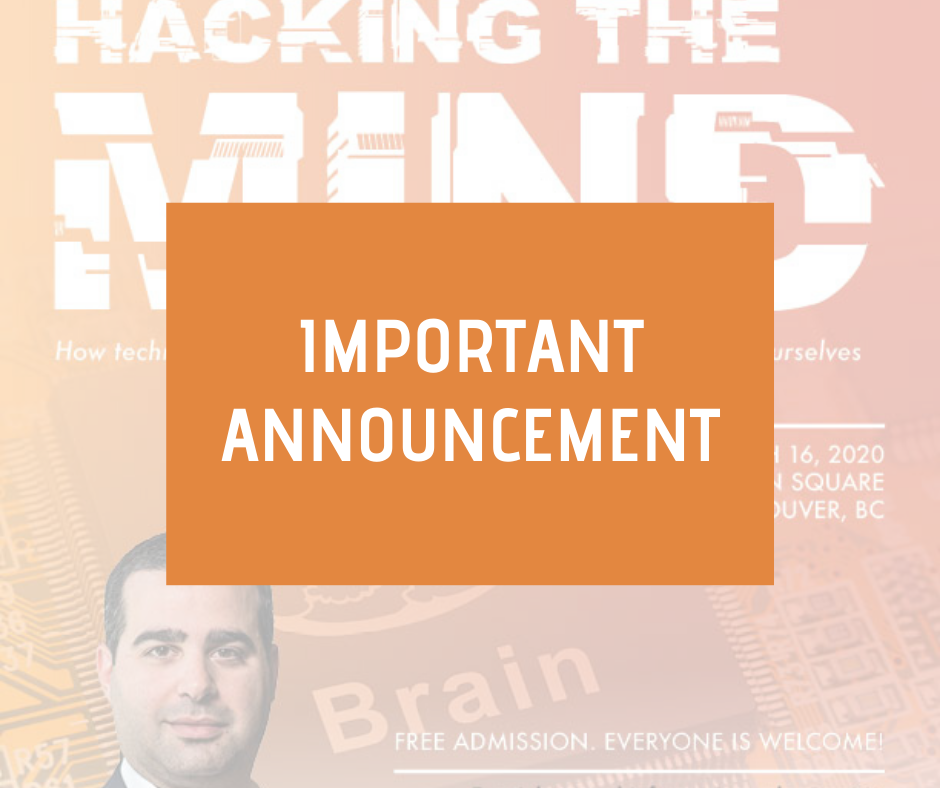 Please stay tuned here for news of a new date.
Hacking the Mind: How Technology Is Changing The Way We View Our Brain and Ourselves
Nir Lipsman, MD, PhD, FRCSC, Assistant Professor, Division of Neurosurgery, Department of Surgery, University of Toronto
Monday, March 16, 2020
5:30 PM – 7:00 PM
C300 Theatre, UBC Robson Square
800 Robson Street, Vancouver, BC, V6Z 3B7
(map)
Overview:
As it advances, our relationship with brain technology will change. In this lecture, Dr. Nir Lipsman will discuss how our knowledge of brain circuitry, and how it can go wrong, has informed our understanding of human behaviour. We will then discuss the implications of more sophisticated, precise and less intrusive brain technology, on that relationship, and what it could all mean for the next generation of brain therapy and beyond…
---
2019
Smartphones: What They Can Tell Us About Our Brains and Our Minds
Thomas R. lnsel, MD, Co-founder and President, Mindstrong Health
Tuesday, March 12, 2019
6:30 PM – 8:00 PM
C300 Theatre, UBC Robson Square
800 Robson Street, Vancouver, BC, V6Z 3B7
(map)
Overview:
There are 3 billion smartphones in use today, collecting and transmitting information on an unprecedented scale. Will this new ubiquitous technology transform health care to yield better outcomes or will it become an addictive device that erodes privacy and damages mental health? This lecture begins with the history of an earlier technology, the thermometer, which over 200 years became an essential medical device. Whether smartphones will follow this history depends on the value they provide and the public's trust in the integrity of this device. We will review some examples of how smartphones can prove helpful for people with brain disorders, including depression. And we will consider the ethical challenges to using the smartphone as a medical device. These are still early days for the smartphone but it is not too early to ask how these tools that are proving to be one of the most disruptive technologies of the modern era can be used to promote rather than threaten mental health.
Thomas R. lnsel, MD
Thomas R. lnsel, MD, a psychiatrist and neuroscientist, is a co-founder and President of Mindstrong Health. From 2002-2015, Dr. Insel served as Director of the National Institute of Mental Health (NIMH), the component of the National Institutes of Health (NIH) committed to research on mental disorders. Prior to serving as NIMH Director, Dr. lnsel was Professor of Psychiatry at Emory University where he was founding director of the Center for Behavioral Neuroscience in Atlanta. Most recently (2015 – 2017), he led the Mental Health Team at Verily (formerly Google Life Sciences) in South San Francisco, CA. Dr. Insel is a member of the National Academy of Medicine and has received numerous national and international awards including honorary degrees in the U.S. and Europe.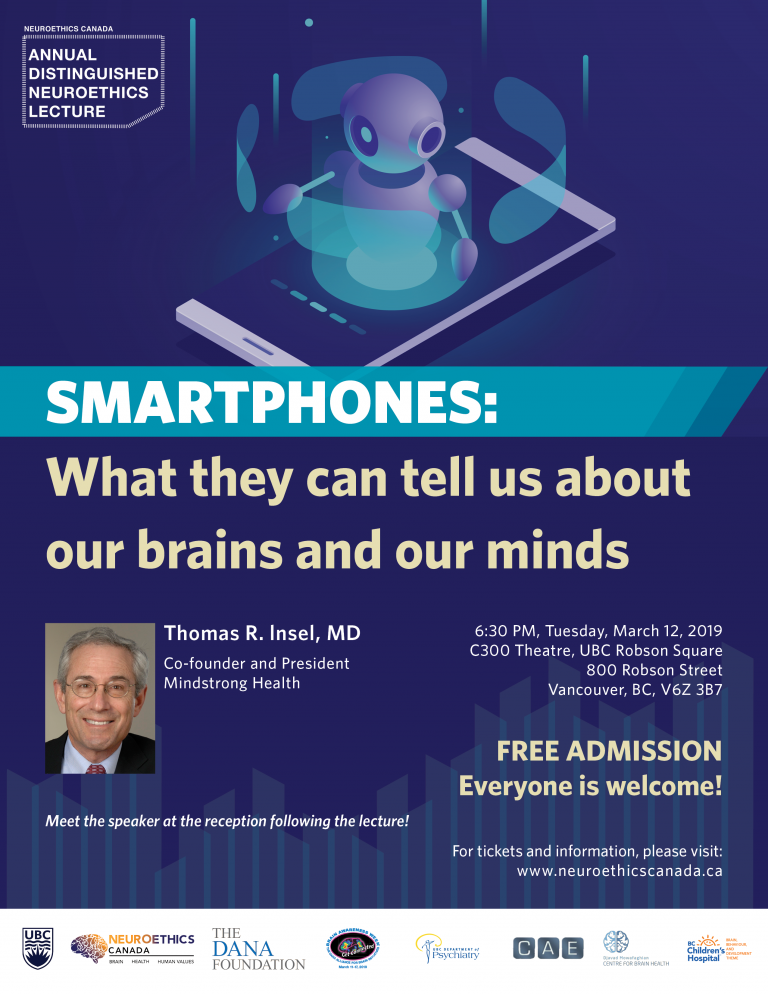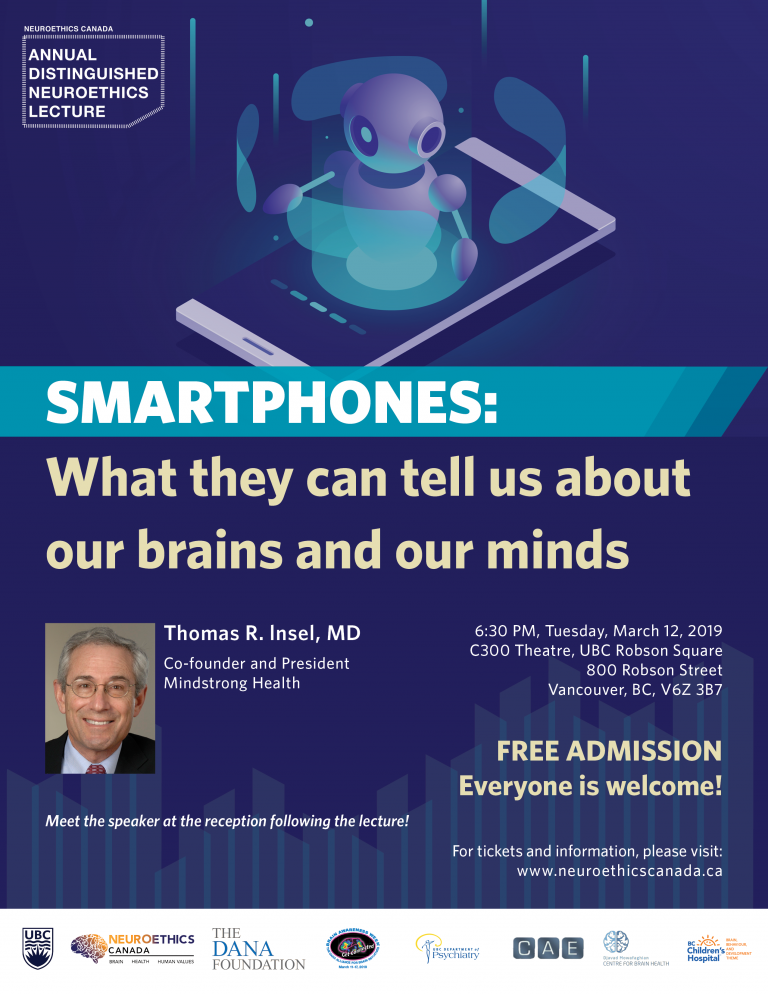 ---
2018
Medical Aid in Dying in Canada – Where are we and where are we going?
Jennifer A. Chandler, LLM, Bertram Loeb Research Chair and Professor, Centre for Health Law, Policy and Ethics, Faculty of Law, University of Ottawa
Prof. Jennifer A. Chandler is a Professor of Law and holder of the Bertram Loeb Research Chair at the University of Ottawa's Centre for Health Law, Policy and Ethics. She specializes in the ethics and law of emerging medical knowledge, practices, and technologies including the brain sciences and regenerative medicine.
Comments by:
Hervé Chneiweiss, MD, PhD,Université Pierre et Marie Curie, Paris, France
Joseph J. Fins, MD, MACP, Weill Cornell Medical College, New York, USA
Tuesday, March 13, 2018
5:30 PM – 7:00 PM
Alice MacKay Room, Vancouver Public Library (Central Branch in Downtown)
350 West Georgia Street, Vancouver, BC, V6B 6B1
(Corner of W Georgia St, and Homer St.)
(map)
Nearly two years after the start of medical aid in dying in Canada, many questions remain about the meaning and scope of the law. Who is in and who is out? What about organ donation after medical aid in dying? This seismic shift in the social and medical landscape continues to be controversial, with ongoing court challenges to the law, and strong opinions on all sides over whether Canada has got it right.
Audience questions from the event are published here: link.
---
2017
The lights are off; is anyone home? The ethics of hidden consciousness
Thomas I. Cochrane MD, MBA, Associate Neurologist and Senior Ethics Consultant, Brigham and Women's Hospital; Assistant Professor of Neurology and Director of Neuroethics, Center for Bioethics, Harvard Medical School
Tuesday, March 14, 2017
5:30 PM – 7:00 PM
Queen Elizabeth Theatre (Salons)
650 Hamilton St., Vancouver, BC, V6B 5N6
(map)
---
2016
Careful what you wish for: who will pay for the new drugs that delay the progression of Alzheimer's disease?
Serge Gauthier, C.M., M.D., F.R.C.P.C., Director, AD & Related Disorders Research Unit, McGill Center for Studies in Aging, Douglas Mental Health Research Institute; Professor, Departments of Psychiatry, Neurology & Neurosurgery, Medicine, McGill University
Tuesday, March 15, 2016
5:00 PM – 6:00 PM
Performance Theatre, Level 2, The Nest
6133 University Boulevard, Vancouver, BC, V6T 1Z1 (map)

---
2015
Rethinking Depression and Its Treatment: Perspectives from Studies of Deep Brain Stimulation
Helen S. Mayberg, M.D., Professor of Psychiatry, Neurology and Radiology, Dorothy Fuqua Chair in Psychiatry Imaging and Therapeutics, Emory University
Tuesday, March 17, 2015
5:00 PM – 6:00 PM
Rudy North Lecture Theatre, Rm 101, Djavad Mowafaghian Centre for Brain Health, 2215 Wesbrook Mall, Vancouver, BC, V6T 1Z3 (map)
---
2014
Big Data Meets Brain Science: The New Frontier
Bartha Knoppers, Ph.D., Professor, McGill University
Wednesday, March 12, 2014
6:30 PM
Morris J. Wosk Centre for Dialogue, 580 West Hastings Street, Vancouver, British Columbia V6B 1L6
This event is part of Brain Matters! Vancouver. For more details, please visit http://brainmattersvancouver.ca/big-data-meets-brain-science-the-new-frontier/
---
2013
Ethics of Research With Brain-Impaired Adults Who Cannot Consent
Scott Kim, M.D., Ph.D., Associate Professor of Psychiatry, Co-Director – Center for Bioethics and Social Sciences in Medicine, University of Michigan
Wednesday, March 13, 2013
4:00 PM
Brain Research Centre Conference Room, Koerner Pavilion, UBC Hospital, 2211 Wesbrook Mall, Vancouver, V6T 2B5